Making a bold statement in your kitchen often centres around a kitchen island or a central cooker hood. However, there's another option … what about a bold injection of glamour with a set of metallic kitchen cupboards? This look seems to be very much on-trend, reinforcing our love of shiny objects. And keen to adopt this approach, our client contacted us to commission a set of sleek polished brass panels, following this up with a set of matching cupboard doors.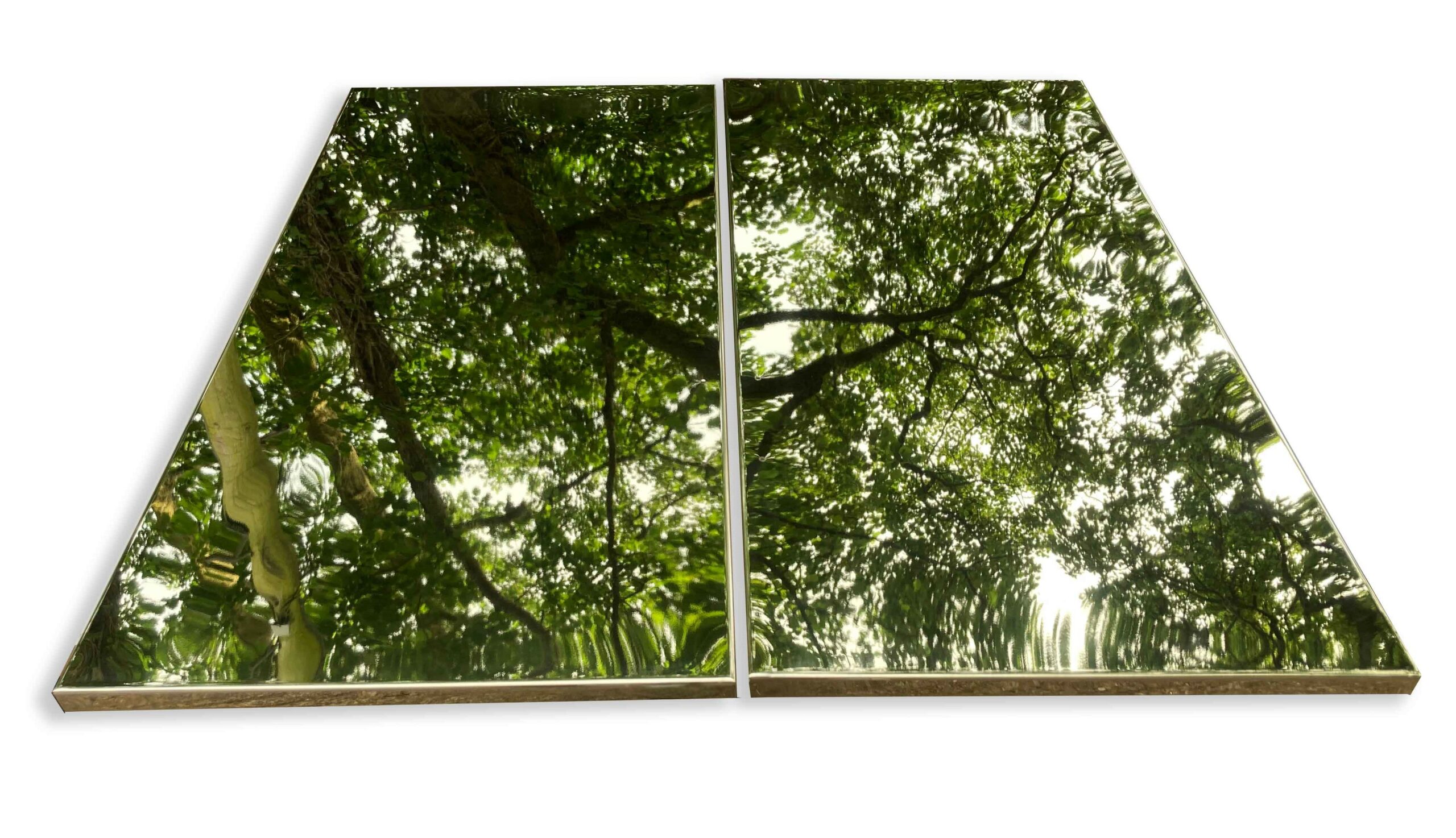 This project has been in the making for some time, and as with other projects that commenced prior to the start of the Covid pandemic in 2020, it has seen periods of busy activity and quiet fallow in equal measure.
We were delighted to hear from our client again after he'd already taken delivery of the brass panels. This time, to complete his kitchen project, he wanted some existing timber substrate doors to be wrapped in polished brass to match the original panels.
Quality Craftsmanship
Armed with his initial sketches and dimensions, and having received the timber substrate, our team set about meticulously wrapping each door in high quality 1.2mm brass sheet, mitred and folded over to leave a crisp, clean, neat edge. With such work, our diligent craftsmen apply the utmost care and precision to create a finish that is just as neat on the inside, as on the outside. A series of shadow gaps were planned at the installation phase, that would add extra interest and dimension to the sharp angles and reflective surfaces.
(Click on the images below…)
This set of fully-bespoke polished brass cupboard doors is incredibly impactful. Brass offers a warm, lustrous aesthetic to any area of the home, and over time its surface patina will vary according to how you interact with it. With our client's choice of a light-reflecting, mirror-like finish, the opulent, unique appeal of these doors, lift and ignite, transforming an otherwise functional room to something far grander – a room that is now elevated from mere catering space to the decadent centre of the home for socialising and entertaining.
Handmade Cabinet Doors
Specialising in handmade, bespoke metalwork for a variety of installations and uses, our team can work with you to create exactly what your interiors are crying out for!
Metallic Kitchen Cabinets
We can design and create doors from various metals and in a number of bespoke finishes. If have an idea and would like to explore this further, please call us to see how we can help.
Polished Brass Kitchen Doors
With a mirror-like quality, why not consider injecting some reflective surfaces into your kitchen. As well as cupboard doors, you could consider worktops and splashbacks as well as cooker hoods. At AND, we make it all. Contact us to explore your ideas with a member of our design team.
Brass Kitchen Cupboards
If polished brass is not your thing, we can create a different aesthetic through our application of hand-patination techniques. Choose from a sleek brushed finish or a more antique and aged look. Brass, with its warm tones and anti-microbial properties, offers a unique and interesting alternative to timber or veneered cabinets.
Bespoke Kitchen Cabinets
Our team of designers, engineers and craftspeople will work with you to design the cabinet doors to your needs and preferences. Aspects such as size, colour, material and finish, as well as fittings (cabinet hinges and handles) can all be specified to suit. For more information, contact our team.
Bespoke Brass Door Hardware & Hinges for Cabinet Doors
We can custom make a range of door fittings to suit your requirements, from door pulls, to cupboard handles and hinges. Please contact us for more information.
We'd Love to Hear from You!
Can't find what you're looking for or have a query? Contact us to discuss your requirements.