What to expect when living with patinated / finished metal surfaces
Choosing to live with a piece of furniture which incorporates a uniquely patinated metal surface is perhaps most easily described as starting a relationship with a new friend, who will reveal their full personality to you 'one event at a time'. Every time you sit at your dining table to enjoy a beautiful evening with friends and family, the table surface will absorb some of the fun, the laughter and the memories.  In other words, the more the piece (worktop, tabletop, desktop etc) is used and loved, the more the surface will develop.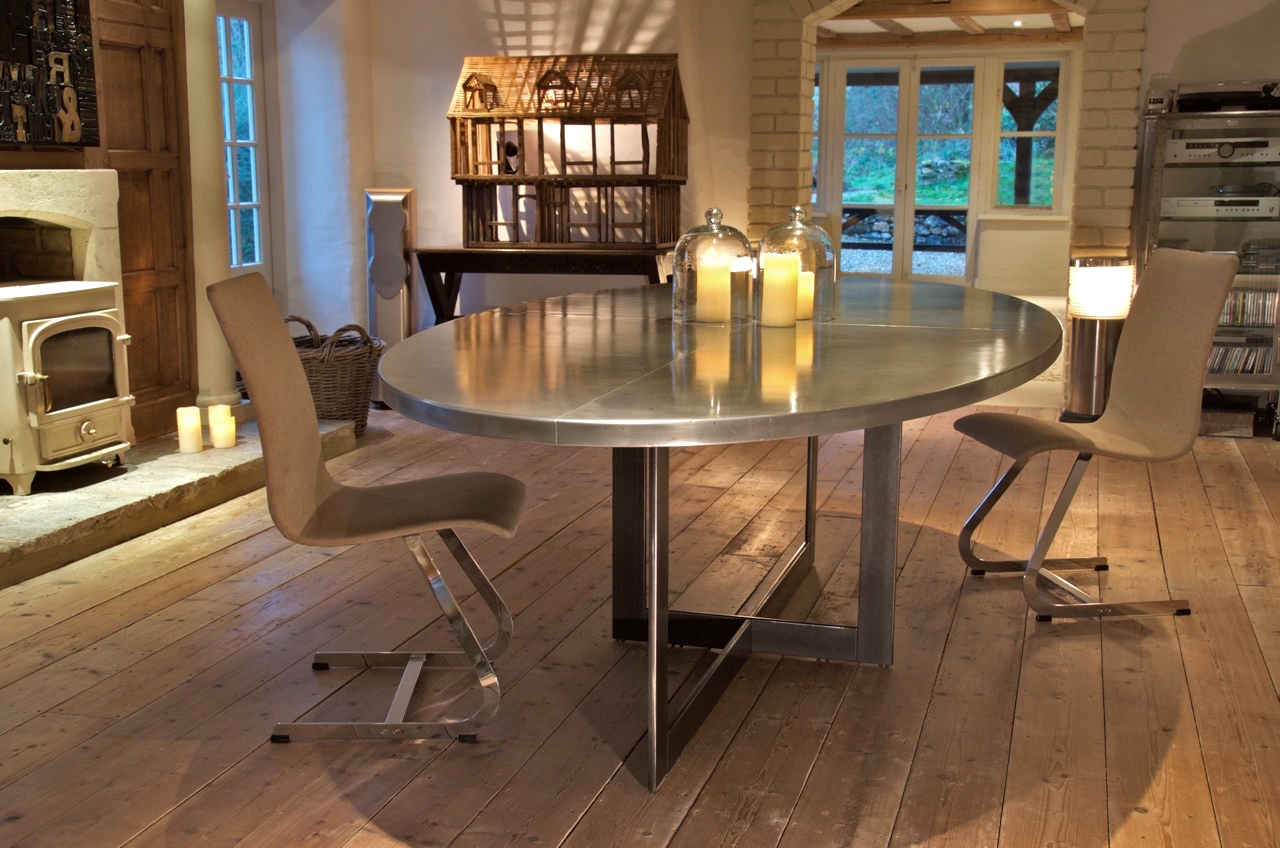 Picture this – perhaps your dining table features a richly antique patinated copper top… the table ware that you use such as placemats, coasters and trivets will be carefully moved across the surface into position ready to look beautiful. So too will cutlery, serving utensils, salt and pepper shakers, along with wine glasses and perhaps a bottle or two! As you sit at the table with your dinner guests, you will gently place your wrists on the table, resting in between delicious mouthfuls. Oh gosh… 'crash' the serving spoon for the potatoes has clattered onto the surface. When you reach over for that extra helping of mesmerising dessert, your jumper softly glides over the table edge, gently buffing the surface as it moves. All of these events/interactions with the surface and of course so many more, are the moments and memories which help to create the character and personality of a patinated metal surface. Some areas will develop more of a sheen as they are gently buffed, other areas will naturally darken and simply because 'we are all human'… blemishes will occur! All of these surface textures, colours and markings tell a story, unique to you and like a fine wine, will improve with age.
Whilst the surface patina will continue to develop throughout its life, there are a few 'good habits' worth getting into which will promote the changes to the surface you will love to see and minimise those you don't want!  
Do's & Don'ts
When living with a patinated metal table top or worktop DO…
think of the surface as you might if the piece of furniture was a family heirloom or antique wooden piece

take care to wipe up any spills as soon as they occur with a damp cloth and dry gently, patting the surface with a dry cloth/towel

'feed' it now and then, with a specialist wax (please ask us for more information)

keep it out of direct sunlight

use suitably protective tableware such as coasters/trivets etc to protect the surface from direct heat/abrasive objects
When living with a patinated metal top or worktop DON'T…
expect the surface to remain  'as you bought it' for long – it will start to change (very subtly) from the moment it is delivered / installed

use chemical cleaners or abrasive cleaning products/sponges (such as Cillit Bang / Brasso etc) 

leave any spillages on the surface – wipe them off immediately (some 'everyday' substances such as lemon juice, HP Sauce etc can react with the metal, leaving marks on the surface)

allow any hot dishes or saucepans etc to be placed directly onto the surface (these can cause the metal to expand rapidly, resulting in unsightly ripples)
Metal wrapped/clad tables, worktops and desks (to name a few) are not only a beautiful way of injecting an interior space with a material which can uplift, harmonise with or take centre-stage, but some metals can also provide health benefits too! Antimicrobial and antibacterial properties can be found in copper, zinc and brass, making them a very good choice for many environments – home, office, restaurant etc. 
Sustainability
On a final note, with so much focus on the impact of climate change, resource depletion and general 'wastefulness' within our world, we design all of our pieces with longevity in mind. Our aim is to provide our clients with pieces that will be loved, used and kept for many, many years and even passed down through generations to come. In choosing a piece from Andrew Nebbett Designs, almost 100% recyclable/renewable materials will be used, thus we are all achieving something sustainable and vital for our planet's health.  
Hand Patinated Zinc, Copper, Brass Furniture
Our team of craftsmen have decades of experience in patination techniques. We can create unique surface finishes for your projects. Talk with our team today to find out more. 
Bespoke Metal Finishing 
Whether you have a desire for a brand new custom-made kitchen table with a unique surface finish or whether your project requires a specific finish for the metal trims, plinths, door furniture and hardware etc. Our team have a wealth of knowledge to be able to help and advise. Please call for more information. 
We'd Love to Hear from You!
Can't find what you're looking for or have a query? Contact us to discuss your requirements.