1:43 pm
Clothing Rails
From brass coat rack style to closet rails
Handmade by our team in England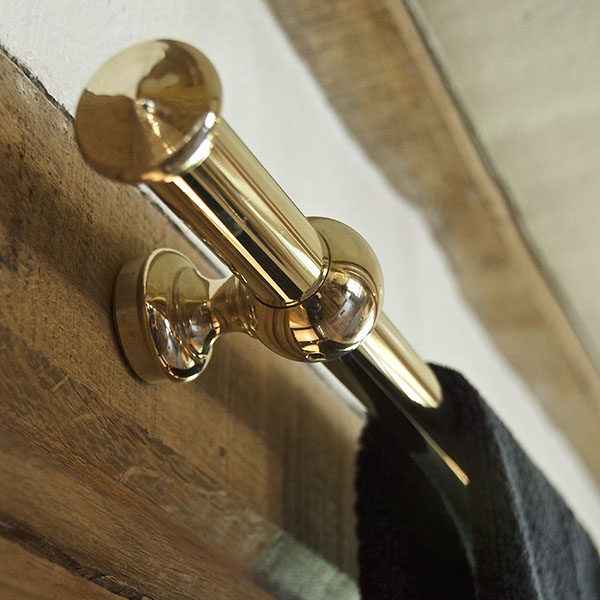 Kitchen Towel Rail Designs
Adaptable to a blanket rack or closet rail
All our hanging rails are handmade by our team
Retail Clothes Rack Systems
From vintage clothes rack designs
To contemporary minimalist solutions
Wall Mounted Coat Rack
And heavy duty garment rack designs
Made from the highest quality metals
Hanging Rails & Racks
Our system of fittings allows our team to build anything from a wall mounted coat rack, closet rails and retail clothes racks to kitchen towel rails, shelving systems and even library ladders. We offer a Ready-to-go hanging rail range with brass fittings, or alternative sizes and finishes such as nickel plated, antiqued brass or bronze patination (to name a few) are available as Bespoke items (we can produce a variety of metal finishes through this custom design service).
Ready-to-go Designs
Our Ready-to-go clothing rails are offered in a variety of sizes and styles,  for a range of different uses. From retail clothes rack solutions to private closet projects. All of our rails are tailor-made to order, handmade and hand finished in our workshops in England. Each piece is made from the finest quality materials. 
Free-standing Clothing Rails & Racks
Wall Mounted Clothes Rails
Ceiling Mounted Clothing Rails
Wall Mounted Coat Rack
Our system enables the design and production of a wide range of products, including wall fixed coat racks. Constructed from polished brass as standard or alternative materials and metal finishes are available through our Bespoke custom design service.
Heavy Duty Garment Rack
Due to the high quality materials we use and our exacting design and production methods, the items we produce are built to last. They are not just beautiful, but beautifully robust, strong and sturdy too! We know how some garments can be heavy, such as winter coats and wedding gowns for example. Our garment racks will not falter!
Retail Clothes Rack
We regularly work with retail interior designers and boutique owners alike, to design and make everything from entire shop/ boutique interiors to individual retail clothes racks and rails. Our system is highly adaptable and with our team of craftsmen in the workshop we can design and make one-off pieces or runs of multiples using materials which suit the design schemes (we work in metal and wood and more).
Vintage Coat Rack
With our roots firmly in the 'vintage', creating vintage style racks and rails is something we do. Our current ranges of clothing rail are of a classical style, oozing the vintage coat rack and antique coat rack appeal. 
Kitchen Towel Rail
Perfect for positioning on a wall or above your range, stove or aga, our kitchen towel rails will last a lifetime. Our standard range is offered in polished brass, in two sizes, or we can produce custom designs through our Bespoke service, in which you can define different dimensions, metal finishes etc.
Bespoke Designs
Can't find the rails you want in our Ready-to-go Designs, we can also manufacture any type of rail bespoke as per your requirements.
We'd Love to Hear from You
Can't find what you're looking for or have a query? Contact us to discuss your requirements.
Call 020 7723 2303