2:14 pm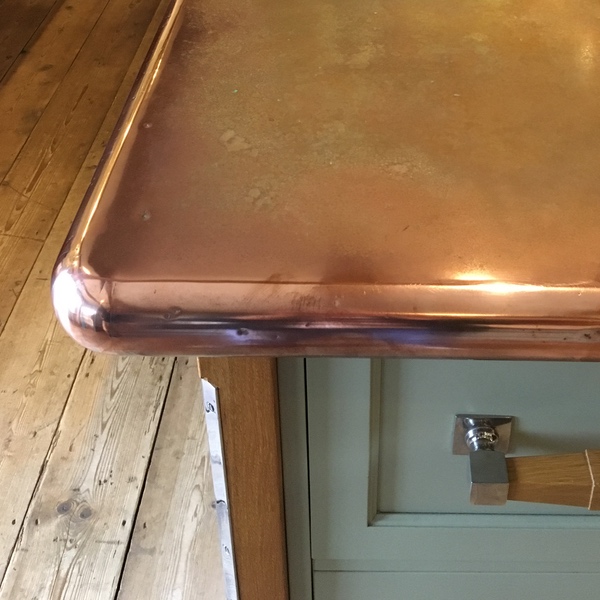 Copper Kitchen Worktops
Bespoke worktops, hand-finished
For your kitchen, home-office, utility room and more…
Handmade Zinc Worktop
Work surfaces made to measure
Hand-made & hand-finished by our team
Handmade Copper Worktop
Choose the finish, profile & size
Then… leave the rest to us
Zinc Kitchen Worktops
Unique hand-applied surface finishes
Handmade in England using the finest quality materials
Worktops
We create a wide range of worktops and work-surfaces for the kitchen, bathroom, utility rooms and more. As each worktop is made-to-measure, we invite our clients to submit the dimensions of the surface to be created, from which a quote will be prepared. Below is a selection of sample products and further down you will find gallery images of bespoke projects. The designs, styles and materials used in these works are also applicable to custom-made tabletops and island worktops. For more information and/or to discuss your requirements, please contact us.
Copper Worktop
Whether you are seeking a characterful, antique patinated copper worktop, or a brushed and gleaming contemporary surface, we are able to work with you to create your dream copper top.
Zinc Worktops
We create a wide variety of kitchen and other worktops for private and commercial projects. The metal-clad worktops are available in copper, zinc, brass and more.
Kitchen Island Worktop
Whether  your goal is for your kitchen island to 'stand out from the crowd' and sport a contrasting but beautiful metal worktop, or perhaps you are seeking an entire suite of worktops, please
Replacement Kitchen Worktops
Through our Bespoke Service, we create a range of worktops and work surfaces for both new and existing installations, so if your kitchen is needing a bit of a 'lift', we are able (in most cases) to create replacement worktops to fit.
Metal Worktop
Offering a beautiful alternative to some of the more traditional worktop materials, metal worktops used in the kitchen, utility room etc can bring a different character to a room. For more information, please get in touch.
We'd Love to Hear from You
Can't find what you're looking for or have a query? Contact us to discuss your requirements.
Call 020 7723 2303