A visual feast was on the menu for everyone when the Andrew Nebbett Designs' team were asked to 'come to the rescue' of a restaurant development project in Central London. The restaurant's stricken bar was painfully bare as the primary contractor had been let down by a third-party company, who didn't deliver on their promise of patinated copper panelling for the bar front!
Specialist patination for the copper panels
Our team created rolled-edge copper-clad panels, which ensured only the patinated copper surface was visible when they were installed. The patina was applied once the construction of each panel was complete. The interior scheme required a very specific patinated copper finish, which was developed with the client's input, guiding our patination specialists who worked the surface much like an artist with a paintbrush. You can see from the image below how a 'story' has formed over the surface of all the panels together, indicating how the panels have been our patination specialist's 'canvas'.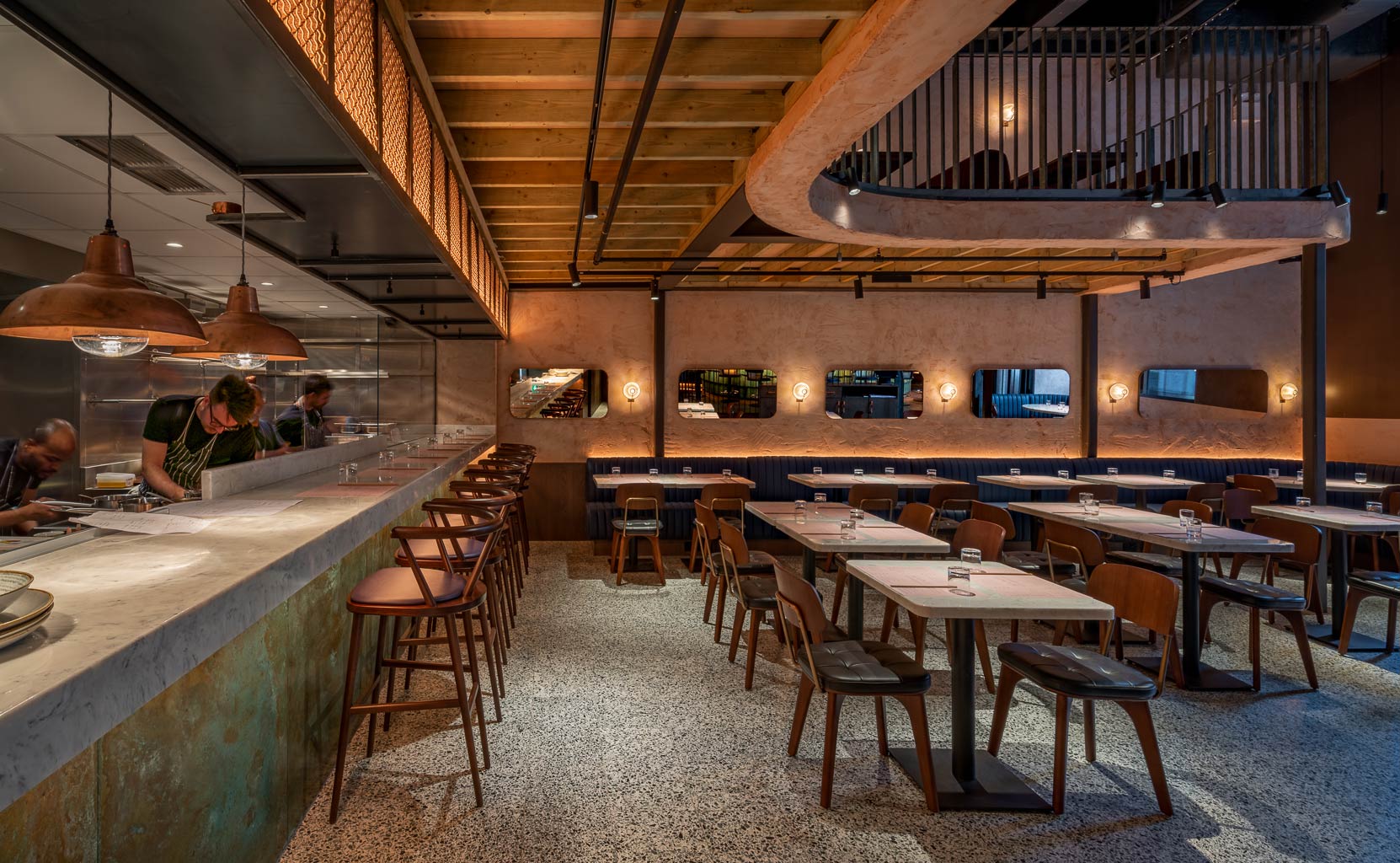 Bespoke patinated wall panelling "restaurant rescue"
The resulting patina truly was a feast for the eyes and hugely in-keeping with the mouth-wateringly delicious offerings that are to be served to their customers!
We worked quickly, cleanly and delivered before schedule which brought with it a wonderful reaction from the client –
"Dear Andrew … Your efforts with the bar front has had a wonderful impact on the main space and main dining area. Thank you for turning this around in superhuman time – and producing such a magnificent piece… and getting this completed within programme. Please let your team know they have done a great job! … You and your team really have saved the day – thank you!" .
(Photos by Gavriil Papadiotis (gavriilux.com))
To view other bespoke metal panel projects, please take a look here.
Alternatively to discuss a project which incorporates custom-made panelling, please get in touch.
We'd Love to Hear from You!
Can't find what you're looking for or have a query? Contact us to discuss your requirements.